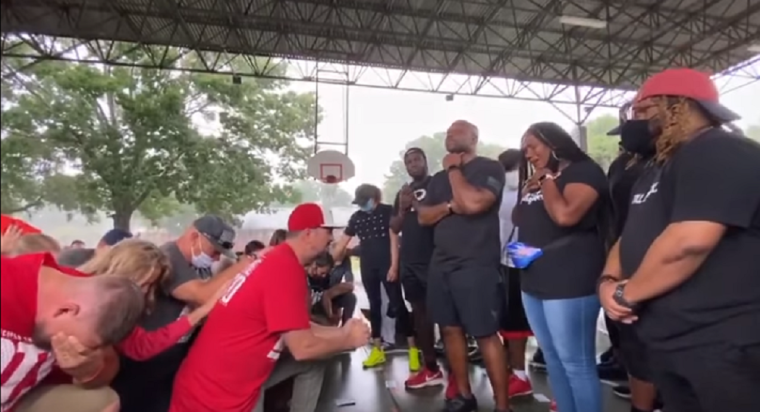 Prayer movement grows after white Christians kneel in repentance before black Christians for racism
A multi-racial Houston prayer group called Praytest, started by white Christian rapper Bobby "Tre9" Herring, is now emerging as a movement among Christians nationwide after a video of white Christians kneeling in repentance for racism before a group of black believers went viral.
The viral video recorded at the Cuney Homes, a public housing complex in the Third Ward area of Houston, where George Floyd grew up, shows Herring leading the group of white Christians in prayer before the black group, led by Johnny D. Gentry, founder and senior pastor of Free Indeed Church.
The meeting took place just days after Floyd, a 46-year-old African American man, was shown on eyewitness video dying in the custody of Minneapolis police officers with the knee of white officer Derek Chauvin pressed into his neck. His death has sparked protest calling for justice and police reform nationwide.
"One of the videos that went viral with Pastor Johnny Gentry and myself on one side facing each other, white people kneeling asking God for forgiveness and then you see my black brothers and sisters kneeling asking God for forgiveness, that was a moment that was beautiful," Herring told Click2Houston in a recent interview.
"From that one moment, Praytest have continued to multiply. Not only in Houston, they just had one in Austin. It's happening in Livingston … it's about to happen in Charlotte [North Carolina], so it's spreading nationwide."
He argued that it was time Christians owned America's sin against black Americans and the only way to do that is reflected in 2 Chronicles 7:14, which says: "If my people, which are called by my name, shall humble themselves, and pray, and seek my face, and turn from their wicked ways; then will I hear from heaven, and will forgive their sin, and will heal their land."
By Leonardo Blair